"We all encourage each other": The Prime Mover program
Posted on July 20, 2018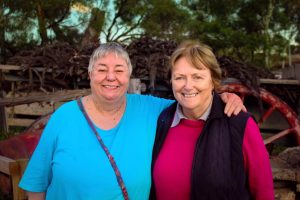 Di Flannigan and Leni Jarvis have a lot in common. They're both in their sixties,  live in neighbouring properties at Dolphin Sands and have had long careers as nurses. 
And now, they're both Prime Movers.
Prime Mover is an exercise and education-based therapy program designed for people living in rural and remote Tasmania with stable heart and lung conditions, such as high blood pressure and high cholesterol.
It's run by the Royal Flying Doctor Service as part of their rural health program, which is funded by the Australian Government through Tasmania PHN (Primary Health Tasmania).
Di first heard about Prime Mover when a notice appeared in a local newsletter and thought it could be an opportunity for the experienced nurses to turn their attentions to a new patient cohort: themselves.
"We've given individual attention to people in our careers – now we need it," Leni, who last worked in the Northern Territory before retirement, says.
While nurses may know more than the average person about how to preserve one's health, Leni says the nature of the profession can result in physical and mental burnout.
But now they're both dedicated to the weekly exercise sessions run by an physical health worker at Swansea.
Being able to perform drills under the watchful eye of a trained professional is a huge drawcard, says Di.
"It's supervised, and very personalised," she explains.
For Di, improving her strength and mobility is also part of ensuring she's fit enough to choose to keep working at a local aged care facility.
"It's keeping me in the workforce," she says.
On a more immediate level, her knee's function has improved since starting the program earlier this year.
Leni's noticed her lower back pain has gotten much better since going to the classes, which she describes as a thankfully "lycra-free zone".
She says boosting her balance has also been a significant help, given she'd started to change her daily habits out of fear of having a nasty fall.
"I'd started not to do things," she says of the time before she started the Prime Mover program.
And while they've been friends for more than a decade, Leni and Di have also enjoyed adding new acquaintances to their social circle from the fitness class.
So much so, they often bookend the hour-long sessions with a coffee together at a nearby café.
"We all encourage each other," Di says.
Pictured: Dolphin Sands neighbours and experienced nurses Leni Jarvis (left) and Di Flannigan (right) have learned to care for themselves with the Prime Mover exercise program.