Gaining confidence and strength with Corumbene Care
Posted on July 31, 2018
Picking up some X-rays of her shoulder, Fiona Cardwell was caught off guard by one of the radiographer's remarks.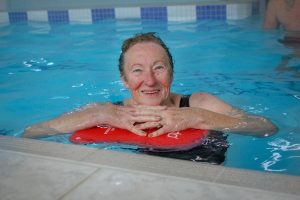 "They said, 'This shoulder's done some hard work!'" she remembers.
"That puzzled me for a while, until I realised that many years ago when I worked in a nursing home, we shoulder-lifted our patients."
Unfortunately, her shoulders aren't the only body parts to endure strain and stress over the years.
"I've had a right knee reconstruction, both hips reconstructed – at least three on my right, two on my left – both shoulders reconstructed," she says.
"So when I go through an airport, I send all the bells and whistles off!"
Even after undergoing so many operations, the 76-year-old says her former career taught her that it can be hard to get moving again once you start to slow down.
"I've always believed that, yes, I've had the surgery done, but I've still got to be able to do things," Fiona, who lives at Bushy Park with her husband, says.
"I want to be able to keep going and keep living in your own home because it keeps you going mentally."
But the grandmother of four says she feels more comfortable than ever with her body, its abilities and its limits since starting the weekly water aerobics classes facilitated by Corumbene Care.
Led by physiotherapist Michelle Garland and funded by the Australian Government under the PHN program, the classes provide a constant but enjoyable challenge for Fiona.
"If you take a piece of elastic, and you pull it and it stretches, you then become more confident that if you pull it harder, you can stretch it further," she says.
"That's basically what I'm doing with my body."
"It's giving me a lot more control and ability, and trust in myself."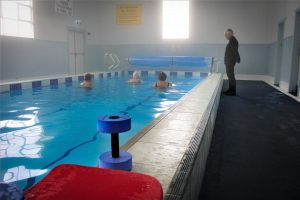 For her part, Michelle says she wants her clients to get a confidence and fitness boost from coming along to the pool-based exercise sessions.
"I want them to have a better quality of life," she says.
Apart from those with musculoskeletal conditions like Fiona, the Corumbene Care program also targets people with chronic conditions such as circulatory and heart dise
ase and lung disease.
Michelle says helping clients build their awareness and understanding of their own chronic conditions – in other words, health literacy – is key to achieving this aim.
"It's having that support from Michelle that helps us push that boundary," Fiona says.
"I just honestly feel that my body is 100 percent better than it was."