Peter's story
Posted on December 4, 2018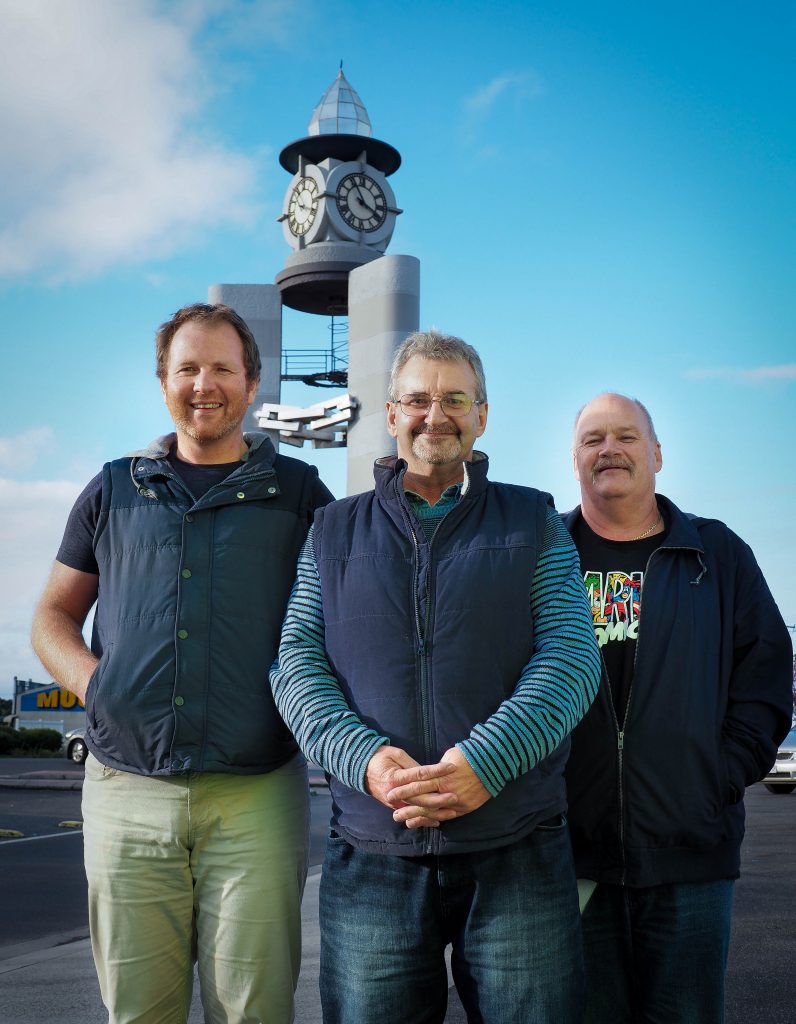 Pictured: (From left to right) No. 34 Aboriginal Health Service care coordinator Liam Stirrat, Penguin local Peter Hall and outreach worker Andrew Pearce.
Looking at Peter Hall, you'd never guess this is the first time he's been under 100 kilograms in almost 40 years.
It's been a long journey – featuring lots of bread getting swapped out for homemade Thai pumpkin soup – and one the 57-year-old couldn't have walked alone.
Not that he planned it that way.
"I wasn't seeking help until I got to this place," he says of No. 34 Aboriginal Health Service at Ulverstone.
"I got depressed because I didn't have work – I couldn't work – and I just got lazy with myself."
He needed, in his words, a "kick up the butt".
He got it from a series of No. 34 team members – most recently, care coordinator Liam Stirrat and outreach worker Andrew Pearce, who work in the Integrated Team Care (ITC) program.
Together, they've been able to support Peter in the lead up and aftermath of sleeve gastrectomy surgery and ensure his limited finances don't send his health spiralling downward again.
It comes years after a doctor's warning made clear just how dire the consequences of the Penguin local's deteriorating health could be.
"My doctor said four years ago, the way I was heading, I was heading to a grave," Peter says.
At that time, he was tipping the scales at 160 kilograms, had just been diagnosed with diabetes and hypothryoidism, and was plagued by bad knees and hips.
"It was just about everything a man could put up with," the former Australia Post worker says. "I was psychologically and emotionally distressed about everything."
But since engaging with the ITC program at No. 34, which is managed by Rural Health Tasmania, Peter says he's been tackling his health challenges one by one.
Now, his diabetes is under control, he's trim as he was as a teenager, and getting more exercise than ever.
"It's not over yet," he says. "But I put it all down to coming here and getting the support that I got."
"It's a lot easier to talk to someone who understands you and tries to help."
While the surgery itself wasn't paid for by the program, Peter says No. 34's support meant he could make specialist appointments to organise the procedure he otherwise wouldn't have been able to fund on his Newstart allowance alone.
But in Liam, Andrew and the rest of the team, he's also found an equally valuable type of support: friendship.
"These guys became a family to me – I could reach out to them," he says.
"This place was a haven for me to come to and talk out my problems."
For his part, Liam says Peter has had an "amazing health journey".
He says the site currently has about 150 clients of the ITC program, which is available for free to Aboriginal and Torres Strait Islander people of any age who are living with a chronic health condition.
Assistance provided can range from helping someone read their medication labels, to supporting a client and their family through a palliative care experience.
Andrew says No. 34 uses a "step up, step down" model that means a client is initially provided with intensive clinical care and moves through a scale of support until they become more capable of managing their chronic illness independently.
"Then we sort of back away a little bit, and see how that goes," Andrew says. "Sometimes it falls apart, and that's okay. Sometimes they amaze themselves."
Importantly, Liam says the approach acknowledges that people are "holistic beings" who benefit from receiving support in an accessible, encouraging way.
"People need human contact," he says.
This service is funded by Primary Health Tasmania under the Australian Government's PHN program.