Ulverstone trials free mental health support program
Posted on March 4, 2022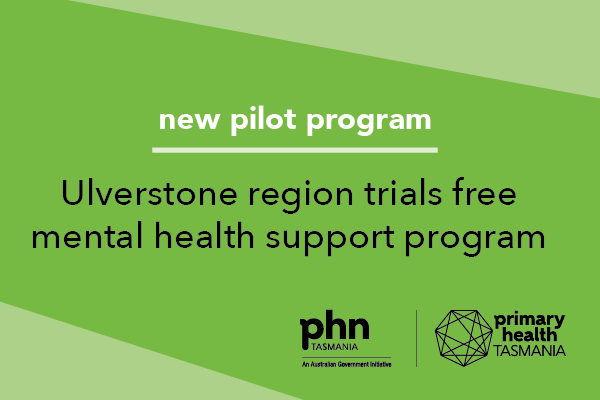 Adults living in the Ulverstone area now have access to a free digital mental health support program as part of a pilot that aims to test new ways of engaging people with health and wellbeing coaching.
Tasmanian-based organisation Healthy Business is delivering the HealthCi program to adults living within the postcode of 7315 under the pilot, which is funded by the Australian Government through Primary Health Tasmania.
A community event to officially launch the HealthCi program was held on Friday 4 March.
HealthCi is a holistic program that supports people to make positive changes to their health and wellbeing. It aims to address early symptoms or indicators of poor health and wellbeing that may indicate a risk of mild mental illness.
In practice, this means blending one-on-one support from allied health and wellbeing coaches with a dedicated mobile app featuring information and guidance about:
mental health
physical health
lifestyle habits
sleep and fatigue.
Federal Member for Braddon Gavin Pearce said he is always fighting hard to improve access to mental health services in the Ulverstone region and hopes HealthCi will fill a gap in health and wellbeing education for locals.
"If the pandemic has highlighted one thing, it's that everyone needs to be mindful of their mental health. The attention we give it should be no different to our physical health," Mr Pearce said.
"HealthCi will be a powerful complement to the existing mental health services working in the Ulverstone area, offering locals an accessible and flexible tool for checking in with their mental health and wellbeing.
"The pandemic experience has shown us the value of connecting digitally, and I'm hopeful that this pilot will give us further insight into how digital health solutions can benefit rural communities."
Healthy Business chief executive Steve McCullagh said HealthCi is centred on early intervention and empowering participants to make — and sustain — lifestyle choices and behaviours that facilitate good mental health and overall wellbeing.
"HealthCi isn't about focusing on a single part of someone's life, such as their mental health, and working on it in isolation — it's about supporting them holistically, so they can create positive behavioural changes that will stand the test of time," Mr McCullagh said.
North Motton resident Vera Nickson, who is taking part in the pilot, said she's already feeling motivated to improve her overall health and wellbeing with the individualised support of her HealthCi coach.
"Taking on something new for your health, it doesn't always have to be about big changes, so much as working towards the life that you want to have," the 32-year-old said.
"It's great that HealthCi is easily accessible, free, and focuses on your individualised goals."
Primary Health Tasmania's Grant Akesson said the outcomes of the pilot, which runs until December 2022, would help inform future support options for people with and at risk of mild mental illness.
"We know that in Tasmania, rates of self-reported psychological distress and diagnoses of depression and anxiety have increased over time," Mr Akesson said.
"We also know there is strong demand for mental health services in Tasmania, and across Australia, and that the COVID-19 pandemic has driven some of this demand.
"That's why it's so important to test and evaluate new ways of providing support to people, especially those who live outside major cities, so we can get people the help they need at the earliest possible juncture."
Eligible people can access the program by downloading and registering on the HealthCi smart phone app.
More information is available at www.healthybusiness.net.au/ulverstonehealthci.