New issue of Primary Health Matters available
Posted on November 1, 2018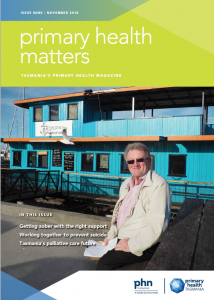 We're pleased to unveil the November edition of our magazine, Primary Health Matters.
This edition includes a wide range of stories – from one-on-one interviews with real Tasmanians who have overcome substance misuse, to local health workers enlisting digital solutions to deliver top-quality care.
We also shine a spotlight on some of our valued commissioned providers, including headspace Hobart, South East Tasmanian Aboriginal Corporation – SETAC, Drug Education Network Inc., Corumbene Care, and more.
In this issue, you'll find:
the story of headspace Hobart client Hannah*, who has turned her life around with the support of the youth mental health provider

interviews with two clients of the Anglicare Drug and Alcohol Treatment Service (ADATS) program

information about our work towards a statewide alcohol and other drugs service framework

an interview with a South East Tasmanian Aboriginal Corporation worker building her alcohol and other drugs treatment skill set

a feature about the Tobacco Free Communities Pilot Project happening in Glamorgan Spring Bay

interviews with members of the Tasmanian suicide prevention trial's diverse working groups

and more.
Read an online copy, and check out earlier issues, here.