*NOW CLOSED* First round applications now open for Primary Health Tasmania's allied health digital integration grants
Posted on October 15, 2020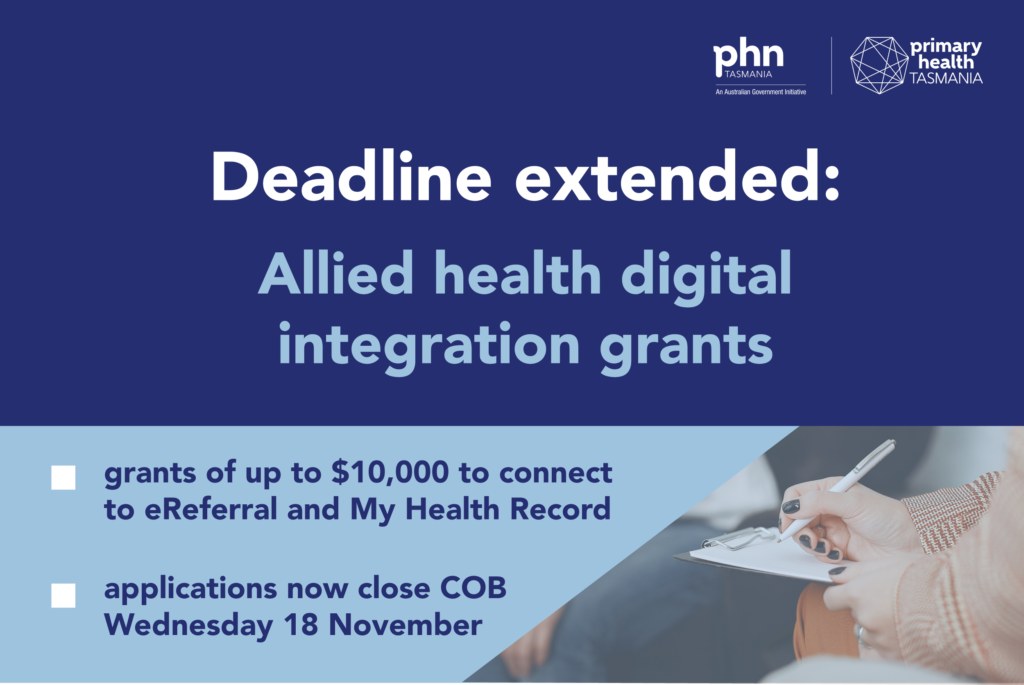 Tasmanian allied health service providers can now apply for grants of up to $10,000 to buy software, run staff training, or undertake other activities that will support their use of digital health systems.
Primary Health Tasmania is offering the allied health digital integration grants to support eligible local providers in their use of:
My Health Record
the Tasmanian eReferral system.
By offering this support, it's hoped more Tasmanian primary healthcare providers will be able to access up-to-date patient information at any time, day or night, contributing to more appropriate and streamlined patient care in the after-hours period.

The grants focus on My Health Record and the Tasmanian eReferral system because both are digital tools that allow healthcare providers to share timely information about the patients in their care – such as health summaries, prescriptions, and referrals.

Primary Health Tasmania is also offering all applicants a briefing in writing small grant applications, with digital health training sessions available for grant recipients.
Who can apply?
This opportunity is targeted at private, community, and not-for-profit allied health organisations, including pharmacies.
One application may be submitted per organisation.
Some additional eligibility requirements apply – see our eTender portal for more details.
I'm an allied health provider that doesn't operate after-hours. Can I still apply?
Yes. Although the program has a focus on improving after-hours care, allied health organisations which operate wholly within business hours may apply. Your connection to online systems will have a positive effect for after-hours care even if you do not operate in the after-hours period.
What software or infrastructure do I need?
Successful applicants will be supported to cover the cost of clinical software licensing to enable full connectivity to My Health Record, if they don't have it already. No clinical software is required to connect to the Tasmania eReferral system.
Importantly, successful applicants can choose if they'd like to connect My Health Record or the Tasmanian eReferral system, or both.
If you are unsure of which digital infrastructure you'd like to apply for, a tender briefing information bundle is available as part of the tender documents. You can also ask a question on our eTender forum. See our eTender portal for more details.

Additionally, a self-assessment tool is available from Allied Health Professions Australia which can help to determine your organisation's digital literacy and need for connection to eHealth infrastructure.
For more information on the benefits of connecting to eHealth infrastructure, visit My Health Record and Tasmanian eReferral system.
When do applications close?
Applications are now open, and will close at Wednesday 18 November 2020 at 5:00 pm AEDT.
All applications will be managed through our eTender portal.
Click here for a list of frequently asked questions relevant to using our eTender portal to apply for this grant opportunity.
This opportunity is made available as part of the Australian Government-funded 'Digital integration grants for improving after hours care in the allied health sector'.